I wasn't sure where to take my Build the Bridges Tour this summer so when Rita Cantu and Jay Grant invited me to stay with them in San Diego and told me about the work they were doing across borders, I knew I had to turn my attention southwest.
So, I loaded up my van with my piano, and a whole bunch of musical instruments and headed to San Diego. What I didn't know is how much passion there is all around us to collaborate on building bridges at the border. From the work Rita and Jay had already done in Nogales, Mexico, we had a framework to start with. Then Elizabeth Newman from Family Village at High Sierra Music Festival connected in through our buildthebridges.rocks video.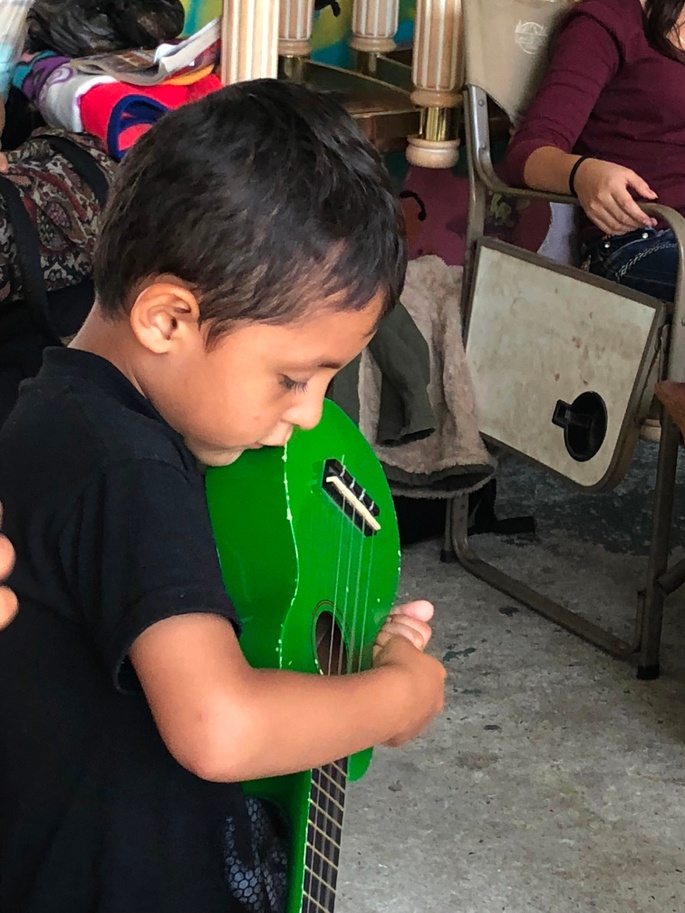 We have all heard the horror stories of families being separated and people being tortured.
I do not need to repeat the stories I heard directly from the survivors. What I do need to repeat, is that I have to continue to do this work even though I sometimes find it stressful. What you see in these pictures and movies is the rewarding part. And though that part feels very good, it also feels like a band aid on a wound that I cannot deny my participation in. Helping to heal some of the suffering caused by US policy is a wonderful thing. But we also need to change US policy and that requires waking people up. Music wakes people up.
That is why the Build the Bridges Project is not just about bringing food and music across the border to displaced people. It's really about building bridges and taking down walls wherever we can. comMUSIKey and I do it through music…and stories. Every story I bring back builds a bridge. And when we sing the stories with people, walls come down.
Every time we crossed the border, a bridge was built.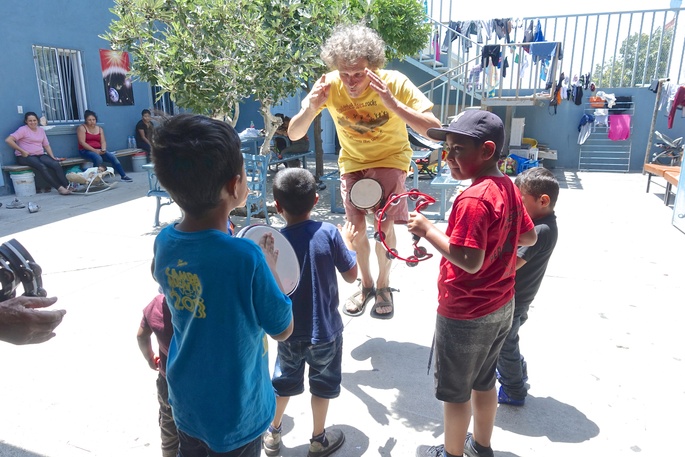 And the bridges stay built. Over a three week period between Build the Bridges stints in San Diego, I took several trips across the border with various combinations of people playing music and serving food. With donations from Bob's Red Mill and Trader Joes through Family Village, Elizabeth drove a car filled with enough breakfast to feed 200 people and clothing to bring to a shelter. Kids at Family Village made cards of support.
We brought a huge suitcase full of musical instruments which we invited all the people who were waiting at the border entry point, to play. We handed out cards donated on the DL by a Staples employee with the Build the Bridges lyrics in Spanish. We created music playshops in shelters and left instruments for them to play after we left. Some of these instruments were donated by Bertrand's Music in San Diego. You can read a wonderful more detailed account on the Family Village Blog
If we were simply applying a band aid, I probably would not feel quite so compelled to continue. The music wakes me up. All the people wake me up. They force me to face my fears as I face the divides that need bridges to cross them. And then I must face my fears about crossing those bridges. When I play music, I am not afraid. I want us all to face our fears together through music.
We plan to go to Nogales, Mexico in October, and back to Tijuana around Thanksgiving. The month of January will be spent following the border along Texas. All these border trips will include lots of bridge building in the US as well. In fact that is where Next summer we will have an extended cross country tour. Wherever we go we do music workshops and performances all geared to more music making by everyone. For the three border trips we are envisioning about 5000 miles of travel.